D-Treep
Food supplement useful for articular functionality and to fight against localised tissues stiffness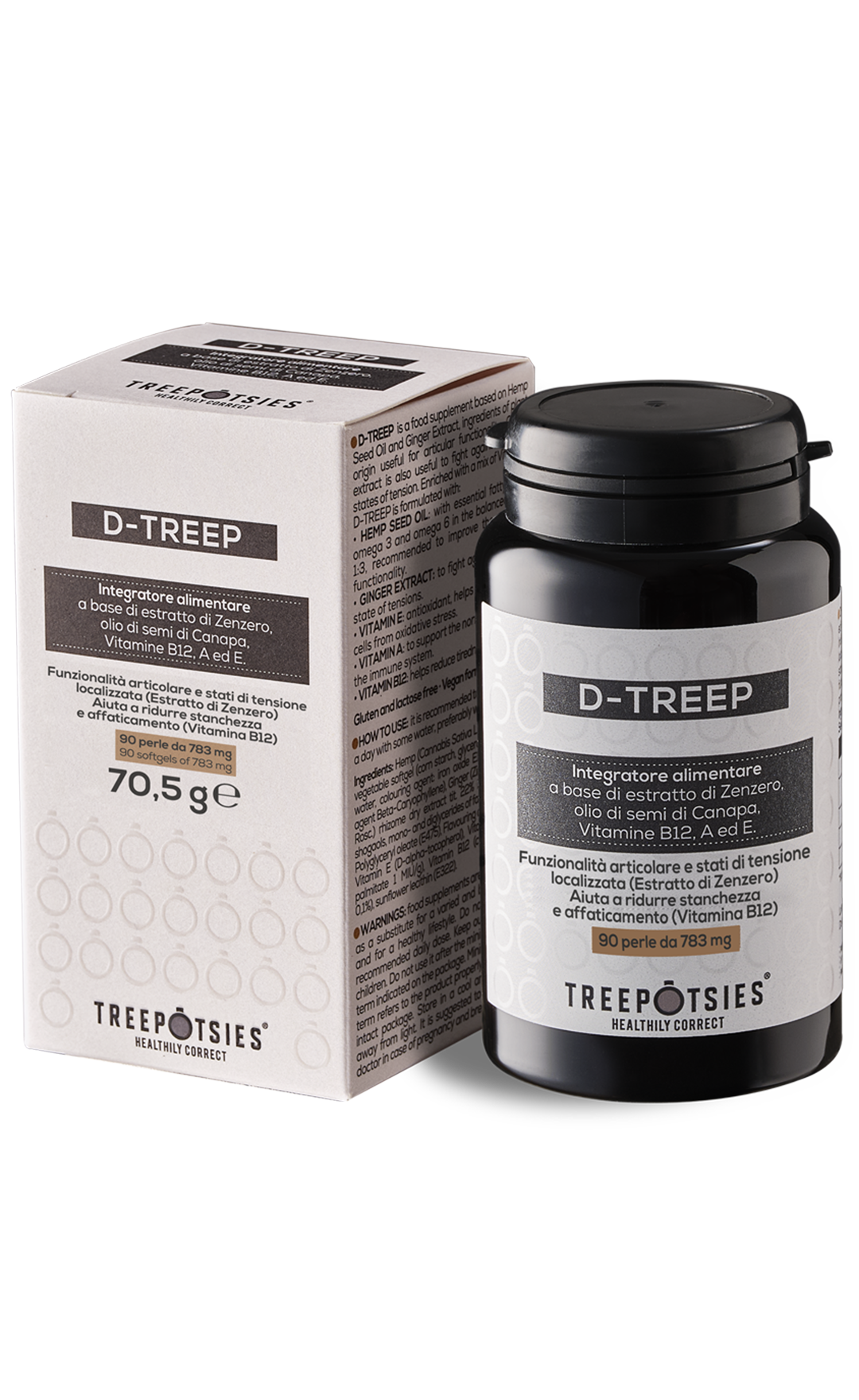 D-Treep
Food supplement useful for articular functionality and to fight against localised tissues stiffness
with Ginger extract, Hemp Seed Oil, Vitamins B12, A and E
THE TREEP

+

–
D-TREEP is a food supplement based on Hemp Seed Oil and Ginger Extract, ingredients of plant origin useful for articular functionality and to fight against localised states of tension. Enriched with a mix of Vitamins, D-TREEP is formulated with:
HEMP SEED OIL: with essential fatty acids omega 3 and omega 6 in the balanced ratio 1:3, recommended to improve the articular functionality.
GINGER EXTRACT: to fight against localised state of tensions.
VITAMIN E: antioxidant, it protects the cells from oxidative stress.
VITAMIN A: to support the normal function of the immune system.
VITAMIN B12: helps reduce tiredness and fatigue.
GLUTEN AND LACTOSE FREE - VEGAN FORMULA.
HOW TO USE

+

–
It is recommended to take 2 softgels a day with some water, preferably with meals.
INGREDIENTS

+

–
HEMP (Cannabis Sativa L.) OIL FROM SEEDS, VEGETABLE SOFTGEL (modified starch, glycerol, carrageenan, water, colouring agents: titanium dioxide E171, iron oxide E172), FLAVOURING AGENT BETA-CARYOPHILLENE, GINGER (Zingiber officinale Rosc.) RHYZOME DRY EXTRACT TIT. 22% IN GINGEROLS E SHOAGOLS, MONO- AND DIGLYCERIDES OF FATTY ACIDS (E471), POLYGLYCERYL OLEATE (E475), VITAMIN E (D-alpha-tocopherol), VITAMIN A (Retinyl palmitate 1 MIU/g), VITAMIN B12 (cyanocobalamin 0,1%), sunflower lecithin (E322).