C-Treep
Food supplement useful for mental well-being, restoration of normal mood and relaxation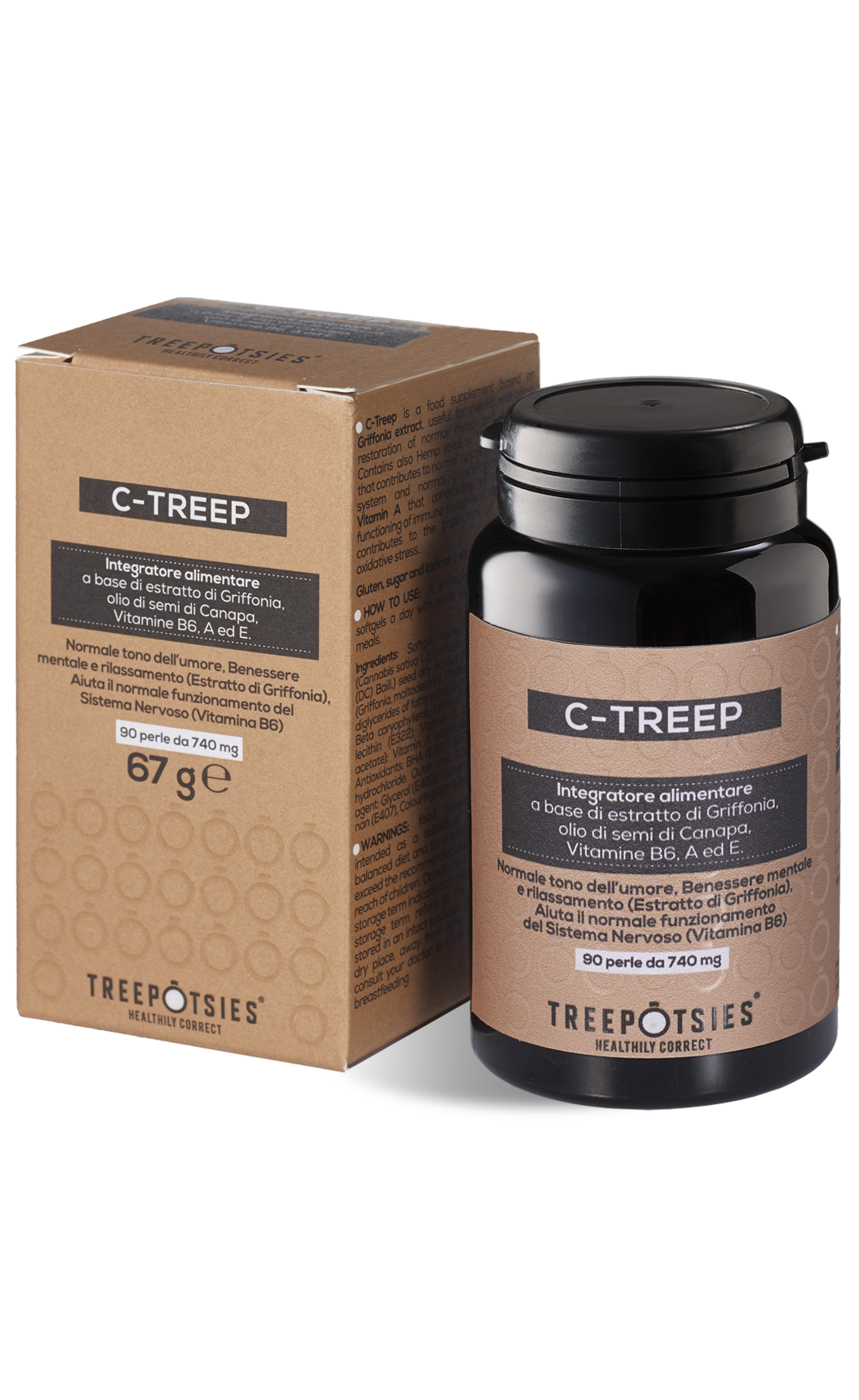 C-Treep
Food supplement useful for mental well-being, restoration of normal mood and relaxation
based on Griffon Extract, Hemp Seed Oil, Vitamins B6, A and E and Terpenes
THE TREEP

+

–
C-Treep is a food supplement based on Griffonia extract, contains also Hemp Seed Oil. With Vitamin B6 that contributes to normal functioning of nervous system and normal psychological function; Vitamin A that contributes to the normal functioning of immune system and Vitamin E that contributes to the protection of cells from oxidative stress.
GLUTEN, SUGAR AND LACTOSE FREE. VEGAN FORMULA.
HOW TO USE

+

–
It is recommended to take 2 softgels a day with some water, preferably with meals.
INGREDIENTS

+

–
HEMP SEED OIL (Cannabis sativa L.), GRIFFONIA (Griffonia simplicifolia (DC) Baill.) seed dry extract tit. min. 25% in 5-HTP (Griffonia, maltodextrin), Thickening agent: MONO AND DYGLICERIDES OF FATTY ACIDS (E471), Flavouring agents: BETA CARYOPHILLENE, LINALOOL ; Emulsifier: SUNFLOWER LECITHIN (E322); VITAMIN E (DL-alpha-tocopheryl acetate); VITAMIN A PALMITATE (Retinyl palmitate, Antioxidants: BHA (E320), BHT (E321)), VITAMIN B6 HYDROCHLORIDE. Outer shell: CORNSSTARCH, Resistance agent: GLYCEROL (E422), Thickening agent: CARRAGEENAN (E407), Colouring agent: IRON OXIDE (E172).