Cleansing Face Kit
No Make-Up & Lavette Treep together!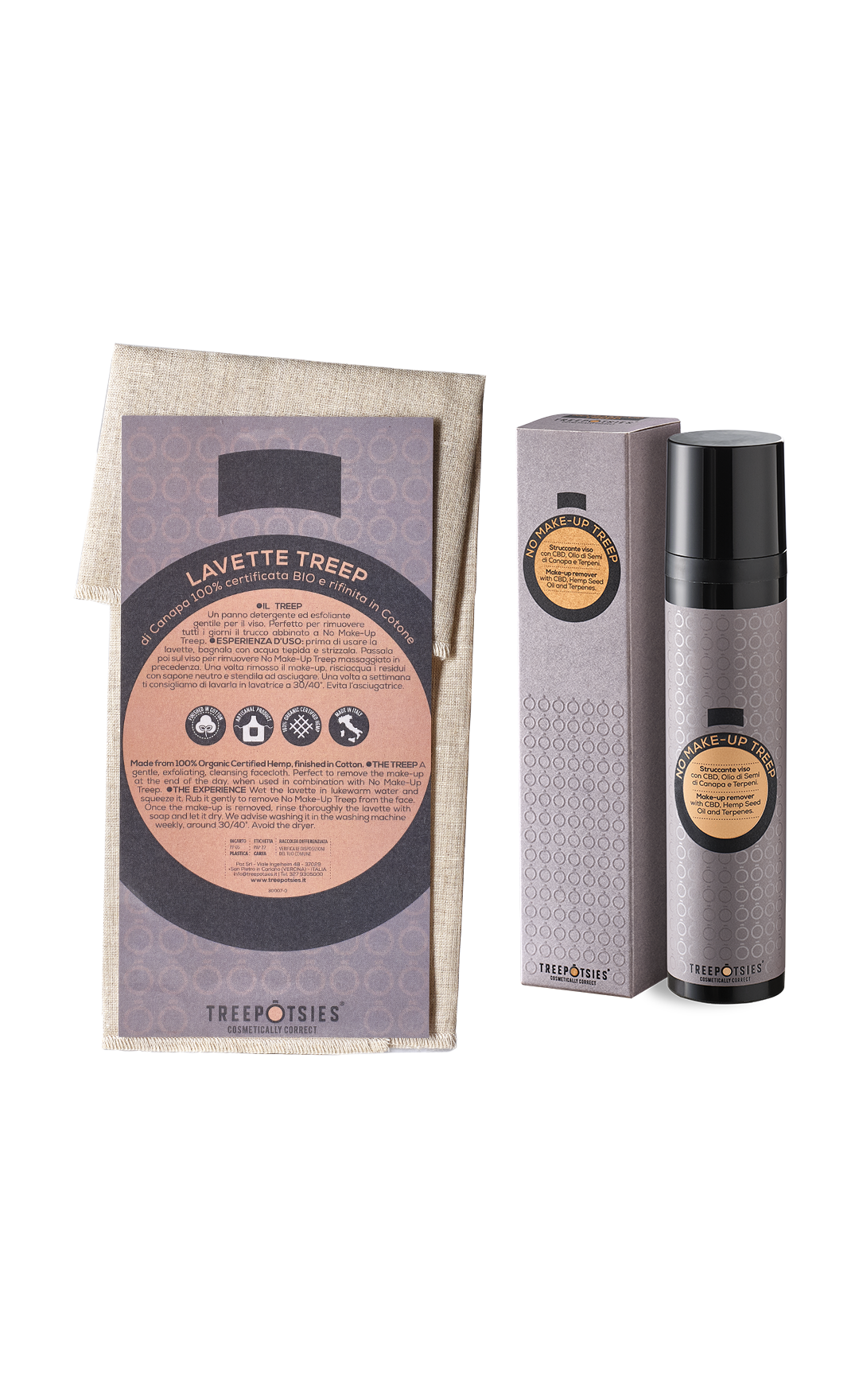 Cleansing Face Kit
No Make-Up & Lavette Treep together!
with CBD, Hemp Seed Oil and Terpenes
THE TREEP

+

–
NO MAKE-UP TREEP: An oil-gel make-up remover for the face.
The CBD in the formula regulates sebum production while the Hemp Seed Oil, rich in essential fatty acids omega 3 and 6, carries a strong antioxidant power and has moisturizing effects. The Alpha Hydroxy Fruit Acids, in combination with Orange Extract, stimulate skin cell regeneration and have soothing and calming effects on the skin. The Terpen in this product is the Beta-Caryophyllene, extracted from Clove Essential Oil.
LAVETTE TREEP: A gentle, exfoliating, cleansing facecloth
Perfect to remove the make-up at the end of the day, when used in combination with No Make-Up Treep. Made from 100% Organic Certified Hemp, hemmed with a thread of cotton. A completely artisanal product, Made in Italy, reusable and sustainable.
HOW TO USE

+

–
NO MAKE-UP TREEP: Apply the product on your fingers and rub well on your face, eyes and lips. Once the make-up is completely dissolved, rinse with lukewarm water until completely clean. For better performance use it in combination with Lavette Treep. At this point, the make-up removal and face cleansing will be complete.
LAVETTE TREEP: Wet the lavette in lukewarm water and squeeze it. Rub it gently to remove No Make-Up Treep from the face. Once the make-up, or the face mask, is removed, rinse thoroughly the lavette with soap and let it dry.
We advise washing it in the washing machine weekly, around 30/40°. Avoid the dryer.
INGREDIENTS

+

–
NO MAKE-UP TREEP: CAPRYLIC/CAPRIC TRIGLYCERIDE, HYDROGENATED POLYDECENE, AQUA (WATER), GLYCERIN, SUCROSE POLYSTEARATE, DIMETHICONE, SODIUM STEAROYL GLUTAMATE, CANNABIS SATIVA SEED OIL (CANNABIS SATIVA (HEMP) SEED OIL) , VACCINIUM MYRTILLUS FRUIT EXTRACT, SACCHARUM OFFICINARUM EXTRACT (SACCHARUM OFFICINARUM (SUGAR CANE) EXTRACT), CANNABIDIOL, CITRUS LIMON FRUIT EXTRACT (CITRUS LIMON (LEMON) FRUIT EXTRACT), CITRUS AURANTIUM DULCIS FRUIT EXTRACT (CITRUS AURANTIUM DULCIS (ORANGE) FRUIT EXTRACT), BETA- CARYOPHYLLENE, ACER SACCHARUM EXTRACT (ACER SACCHARUM (SUGAR MAPLE) EXTRACT), HYDROGENATED POLYISOBUTENE, ETHYLHEXYLGLYCERIN, CITRIC ACID, PARFUM (FRAGRANCE), PHENOXYETHANOL, HEXYL CINNAMAL, LINALOOL, CITRONELLOL, COUMARIN.
LAVETTE TREEP: made from 100% Organic Certified Hemp, finished in Cotton